Chinese New Year Play #8: Year of the Dog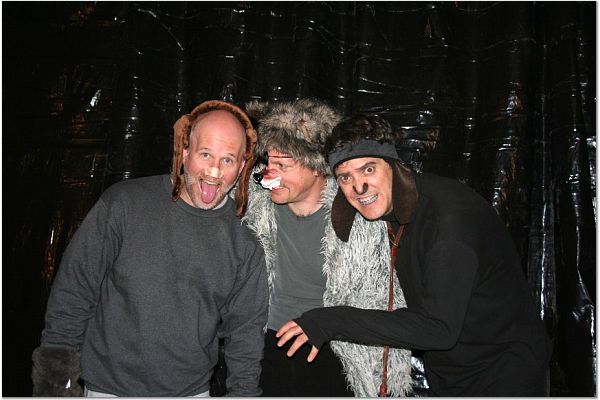 Saturday was the final rehearsal and also the first and last performances of "The Underdog," the eighth in a series of bad Chinese New Year plays for Jennie Chuang's Chinese New Year Parties.
It was a long day — I got there at 9:30am to help set up, we had our rehearsal at 10am, the kid's performance at 2pm (which Kimi and Sammy attended, along with Kyrie, Jack, Andy, as well as John and Yvonne, where Kimi took quite a few photos), and then the adult party started at 8pm with the performance at 9pm. The play itself was about an hour, and with dinner and unwinding and cleaning up afterwards, I didn't get out of there until 1:30am.
In previous years, 70 or more people squeezed together in the cramped quarters of Jennie's apartment. This year, thanks mainly to Jennie's landlord Anthony and Jennie's new boyfriend Dennis (who I have to say is a great guy), we took over the Chinese noodle factory downstairs — how a propos, non? — and (with flour dust getting everywhere) a makeshift stage was created. The seats were wooden planks and fabric balanced precariously on milk crates. The curtain was plastic tarp. My narration station was an elevated platform with some boards to hold the laptop, projector and boombox.
But, overall, it was well received and I enjoyed myself immensely.
Oh, you couldn't be there? Jon Welch videotaped it and has it available for download from his site (medium quality quicktime, 110 megs).
And the script (one of my few creative outlets these days, this year a joint collaboration between me, Sara Robinson, Greg Keaton, Brian Bennett, Bryan Grziwok, Debbie Lee and many more) is probably more than you want to read…
House of Chuang Players
presents
Bad Chinese New Year Play #8
The Underdog
CAST & Crew
In order of appearance:
| | |
| --- | --- |
| Actor | Role |
| Stephen Mack | Narrator |
| Rich Proulx | Town Crier |
| Neha Dave | The Cook |
| Donna Wei | Lili, a Chinese Girl |
| Debbie Lee | Su-Ling, Lili's Mother |
| Jon Welch | Guard |
| Jennie Chuang | Wise Fortune Teller Wing Chun |
| Brian Bennett | Lucky, the Three-Legged Dog |
| Kris Jensen | Chairman Meow |
| Judis Santos | Sabrina, Head Henchcat to Chairman Meow |
| Dennis Kettler | Ming, Lili's Father |
| Bryan Grziwok | Eh-Dee (Destined To Be Great), Lili's Mean Older Brother |
| Theo Heater | Freh-Dee (Overnight Sensation), Lili's Younger Brother |
| Daniel Roose | Stinky, the Dog with No Nose |
| Greg Keaton | Cyclops, the Dog with One Eye |
| Sara Robinson | Griselda |
| Kiersten Israel-Ballard | Tigress |
| Sacha Kopin | Madame Puss-in-Boots |
| Bryan Grziwok | Marley, the Watchdog |
| Rich Proulx | Farmer (from Flashback) |
| Bryan Grziwok | Ox |
| Sacha Kopin | Rat |
Sacha Kopin, Kimi Winters, Cast Props & Costumes
Taff and Sacha Productions Documentarians
Chuang Realty Stage Space
House of Chuang Players Concept & Story
Debbie Lee Cultural Awareness
Stephen Mack Script (Scene 1), Editing
Greg Keaton Script (especially Scene 2)
Sara Robinson Script (especially Scene 3)
Brian Bennett Script (especially Scenes 4 & 7)
Bryan Grziwok Script
Jennie Chuang Producer
INTRODUCTION: HAIR OF THE DOG
[Darkness]
NARRATOR: 4,703 years ago, during the rule of Emperor Huang Ti of China, the Lord Buddha summoned all of the world's animals to come to him before he departed the earth. Only twelve came to bid the Lord Buddha farewell. So as a reward, the Lord Buddha named a year after each one, in the order that they arrived: Rat, Ox, Tiger, Rabbit, Dragon, Snake, Horse, Sheep, Monkey, Rooster, Dog, and Pig. And so every year, one of these twelve animals would rule heaven and earth.
Ancient Chinese believed the Dog symbolized the best traits of human nature: loyalty, honesty, faithfulness, inspiration, and leadership. Those born in the Year of the Dog are said to exemplify those traits and make great friends (although they can also be somewhat selfish, terribly stubborn, and eccentric). They care little for wealth, yet somehow always seem to have money. They can be cold emotionally and sometimes distant at parties. They can find fault with many things and are noted for their sharp tongues. But they can keep secrets and make exceptional leaders.
The Year of the Dog brings increased social awareness and generosity! But how did the Dog come to rule in heaven and earth? The dog may be known as man's best friend in the West, but in China, the dog has a very different role: man's best dish.
SCENE I:
BEIJING
IN UPROAR
NARRATOR: In the year 1272, Beijing became the capital of a newly unified China under the Yuan Dynasty. Despite the rule of the emperors of China, a shadowy and dainty figure has always been the true ruler of Beijing: Chairman Meow. We take you now, through the magic of dramatic suspension of disbelief, to a Beijing town square, and introduce you to a little Chinese girl, Lili, her Mother Su-Ling, and their family Cook, who are out shopping for noodles, not knowing that their world would be turned upside down by a mysterious proclamation.
[Lights on]
[A town square in Beijing. LILI is with her MOTHER and COOK to buy noodles. Several dogs, CYCLOPS and STINKY, are also hanging around the scene. Also, WING CHUN stands at the side holding up a "The End is Nigh" sign. Suddenly, a TOWN CRIER rushes on.]
TOWN CRIER: Chairman Meow has banned all dogs from the Imperial City! News flash! Chairman Meow has banned all dogs from the Imperial City!
COOK: But why?
TOWN CRIER: Today's news flash was brought to you by Chew Brothers Fine Noodles. When you want the finest in egg noodles, be sure to choose Chew's, the chewiest noodles you can ch—
COOK: [interrupting] Forget the commercials, I want to know why Chairman Meow has outlawed dogs!
TOWN CRIER: I don't know, lady, I just read the news. [loudly] Chairman Meow has banned dogs from the Imperial City! [He starts to move, getting closer to the dogs.] And now a message from our sponsor: If you use firecrackers, please use Coughing Dragon brand firecrackers.
[CYCLOPS and STINKY are now close enough to hear, and they look panicked and cower in the corner. They howl a bit.]
LILI: What! Dogs are outlawed? Oh no! Mother, what will we do?
MOTHER: Lili, you must do what you're told. There's nothing we can do. This is an imperial decree. We must obey the law and protect our family.
LILI: [Starts to sob, MOTHER comforts her]
[A GUARD enters, first seeing WING CHUN.]
GUARD: You, you shiftless person, out of my way. I am one of Chairman Meow's Imperial Guard, here to enforce his law. [He marches on, goose-stepping a bit. Upon seeing LILI and MOTHER and COOK he says:] You there! Do you have a dog?
LILI: No!
MOTHER: Now Lili, you must not lie. Yes, honorable Guard, we do have a dog.
GUARD: What? Oh really?
LILI: Yes, really, his name is Lucky.
EVERYONE: L-U-C-K-Y, L-U-C-K-Y, L-U-C-K-Y, Lucky is his name-o.
LILI: My dog Lucky has only three legs.
COOK: Whatever you do, don't ask why he only has three legs.
GUARD: By order of Chairman Meow, I'm to round up all of the dogs. Bring your dog here at once.
COOK: Are all dogs outlawed? Even the dogs intended for cooking?
GUARD: I don't understand the laws, ma'am, I just enforce them. And so you must obey them.
MOTHER: Cook, stop asking impertinent questions, and go off and bring our dog. We will comply with the law.
[COOK bows and departs.]
LILI: No! Mother, no, you must not! Lucky's my pet! [She starts to cry.]
[The wise fortune teller WING CHUN enters (with a cymbal crash), and pulls LILI aside, while MOTHER and GUARD converse quietly.]
WING CHUN: There there, Lili, do not cry. I have seen your fortune and you are destined for great things.
LILI: Huh? Who are you?
WING CHUN: I am the venerable and ancient, yet wise and beautiful, fortune teller known as Wing Chun.
LILI: But they're taking away my dog!
WING CHUN: Yes, and because of that vile plan, I foresee a terrible calamity.
LILI: Oh no! What can we do?
WING CHUN: Here's my advice: Whistle.
LILI: What? I don't understand.
GUARD: Bow down, citizens! Chairman Meow herself approaches with her entourage!
[WING CHUN back out, and MEOW enters, with her cat SABRINA.]
MEOW: Meow! I am Chairman Meow, Imperial Ruler of Beijing! Behold and fear me, loyal subjects of China! Bow down before me! Bring me shiny objects and feed me dainty morsels!
[Much bowing.]
SABRINA: [sniffing] I smell hair of the dog!
MEOW: Guards! Seize these mangy mongrels and put them in the pens! Banned they are, yes, banned!
[The GUARD grabs STINKY and CYCLOPS and drags them offstage while they howl in protest, to the mews of joy and approval from MEOW and SABRINA.]
MEOW: Well done. Now are there any other dogs? The penalty for disobedience is the howling cat torture, followed by beatings with a cat o' nine tails, ending with nine deaths by a thousand scratches! Not necessarily in that order.
MOTHER: O great Chairman, please do not beat or kill my humble family. My cook has gone to retrieve our most unworthy dog. In fact, there she is now.
[COOK and LUCKY enter, the latter on a leash and looking downcast.]
MEOW: What a filthy, ugly beast. Sabrina – take this foul hound with the others. You know what to do. Now I depart for the Imperial City! Finally Beijing will be free of the stench and unhealthiness of these damned dogs. The Dog Days are over! And with no dogs to oppose me, I can ascend into heaven and rule forever! [Laughing evilly, she departs.]
LILI: No! Please spare my dog! He's my pet and he's a good dog. I promise he'll be safe in my room.
SABRINA: Orders are orders. Hand him over.
COOK: Seem such a shame – he's just getting plump enough to cook. A tasty hot dog!
MOTHER: Do what they say, Lili, we have no choice.
LUCKY: [Howls in dismay.]
[SABRINA grabs LUCKY and is pleased. They begin to file off.]
SABRINA: Now it's off to the re-education camps with you and those other mutts! You're prisoners of the war on canine terrorism, and you have no rights.
COOK: Now he's a real underdog.
MOTHER: Let's just go home. Come on Lili!
[All depart except for LILI, crying in the middle of the stage. A brief period of time passes.]
LILI: What was it that the fortune teller said? [She tries to whistle but can't really do it.] Nothing! I can't whistle. [She tries again but again no noise.]
[Offstage, some barking, then LUCKY bounds on stage and licks LILI enthusiastically.]
LILI: Lucky! You escaped! You must have heard my whistle anyhow! You really are lucky, Lucky! [Laughing as LUCKY licks and plays with her.] Oh Lucky!
[Happily, they both exit.]
[Lights off]
SCENE II: THERE'S A DOG IN THE KITCHEN, WHAT YOU GONNA DO?
NARRATOR: Although Lucky escaped from the pens, it was not easy for Lili to keep Lucky hidden from her mother, her father, her cook, and her two brothers at their modest family home.
[Lights on]
LILI: Good dog! Yes, you're a good dog, aren't you? [pets dog] Sit boy, sit! [dog sits] Good dog. Shake hands boy! [dog shakes hands] Good dog. Speak boy, speak!
LUCKY: [pause] Hey, how's it goin'?
LILI: Good boy!
[COOK enters. When the LUCKY sees her, he gets very happy, starts barking, runs up to the COOK and jumps up on her.]
LUCKY: [barking] Ruf! Ruf! Ruf! Ruf! Ruf! Ruf!
COOK: Hey there, Lucky! I thought you were supposed to be gone! [Pets him]
LUCKY: Ruf! Ruf!
COOK: Shh! Lucky, be quiet, they'll hear you! Lili, what are you doing? You know he's not allowed to stay here.
LILI: Oh, I know, Cook, but I just can't let him go.
COOK: What if your parents find out? You know you'll be in trouble.
LILI: I know. Help me hide him, please?
COOK: Okay, I'll help, but you've got to keep him quiet!
[They hide him.]
LILI: Thank you, Cook! [Hugs COOK] [To LUCKY:] Good boy!
[FATHER enters into the dining room, from where he can't see directly into the kitchen.]
FATHER: [Coughs] Isn't it time to eat?
MOTHER: Eh-Dee, Freh-Dee, Lili — come on everybody, time for dinner!
[MOTHER, FREH-DEE and EH-DEE enter the dining room and sit down at the table.]
EH-DEE: No Mom, you sit over there. [MOTHER starts to sit next to FATHER, but EH-DEE shoves her to the second-to-last seat, next to LILI] I'm the oldest after Father! [MOTHER does what EH-DEE wants.]
FATHER: Lili! Come at once!
LILI: Coming, father! [She starts to leave the kitchen. LUCKY follows her. She turns around and speaks to him, backing out of the kitchen.] Stay. Stay! Stay!
MOTHER: Lili, what are you saying?
LILI: Uh, stay… er, say! say! Um, say Mom! How was your day? [Sits down at the table.]
MOTHER: None of your business, girl. And what was that noise a minute ago? It sounded like barking.
[COOK enters dining room from kitchen, bringing the food.]
COOK: Oh, that was just my cough, ma'am. [Tries to make some kind of a cross between a sneeze and a cough that sounds like barking.]
MOTHER: I'm surprised you haven't made a soup to take care of that cough yet.
COOK: Yes, ma'am. I'm working on my dog bisque recipe. [Puts bowl on table. MOTHER serves FATHER first, then EH-DEE, then scrapes out the bottom for LILI. The rice bowl is moving from stage right to stage left first by the men in age order (FATHER, EH-DEE, FREH-DEE) and then the women (MOTHER, LILI).]
EH-DEE: A bit more please!
FREH-DEE: I hope there's enough for you, Lee Lee.
EH-DEE: As long we get enough, Freh-Dee!
FATHER: Your brother's right. Lili is only a girl.
LILI: No fair! Only Lucky understands me. I mean, understood me.
[LUCKY is watching the whole thing from just around the corner.]
LUCKY: Grr….
COOK: Uh, ahem. Grr… grr.
LILI: [catches on] Grr. Grr.
[COOK walks back toward kitchen.]
COOK: [to LUCKY] Shh!
MOTHER: Lili, what's wrong with you?
LILI: Nothing! Just got something stuck in my throat.
MOTHER: [suspicious] Ah.
[Lili finally gets served some food.]
LILI: Dad, why couldn't we keep Lucky?
FATHER: Well, you know it's against the law. All dogs are banned from the city.
LILI: But why?
FATHER: Well, it's hard for a little girl to understand, but our leader, Chairman Meow, knows best. She knows much more than we do, and we must trust her.
LILI: But she didn't know Lucky! He's such a good dog! [She tosses a bit of her food to the LUCKY.]
MOTHER: If we had not turned him in, we would lose the good face of our family and become known as common criminals!
EH-DEE: I think Lili is right, we should have kept Lucky.
LILI: You do?
EH-DEE: Yeah, in the freezer, till we were ready to eat him! Ha, ha!
LUCKY: Grr..rrr…rrr. Arrf! Arrf!
COOK: Grr. Arf! Arf!
LILI: Arf! Arf!
[LUCKY charges out of the kitchen and goes for EH-DEE. He screams and stands up on his chair to try to get away. LUCKY, COOK, and LILI are madly barking, EH-DEE is screaming.]
EH-DEE: Aaaagh!
LUCKY: Arf! Arf!
COOK: Arf! Arf!
LILI: Arf! Arf!
FATHER: QUIET!!!! [Everybody freezes. Pause.] Now, how did he get in here?
LILI: Um, well, I dunno!
COOK: Maybe he just found his way back home!
LILI: Yeah, dogs can do that, you know!
MOTHER: Oh, Lili.
FATHER: [sternly] You know he must go. This time I will take him to the city gates myself to make sure he leaves.
LILI: Can't we just hide him here?
FATHER: No, Lili, we can't keep him here; we would be soon discovered. Chairman Meow has given herself broad spying powers during wartime, despite the law. Lucky would bring great trouble to this family if he stays.
EH-DEE: Yeah. Bad dog!
LUCKY: [nipping at his heels] Arf! Arrrrrr….
EH-DEE: [cowardly] Aaaaagh!
FATHER: Come on, Lucky.
LILI: [gives LUCKY a hug] Oh Lucky!
[FATHER grabs LUCKY by the collar and leads him out. LILI runs to her MOTHER, who comforts her.]
LILI: I'm going to miss him so much!
MOTHER: Yes, yes, we all will.
COOK: That's a special dog, that one is. Somehow I think we'll see him again some day. In a special dish.
[Lights off]
SCENE
III
: A
CAMP
ON
CATANAMO BAY
,
ON
A
REMOTE
ISLAND
NARRATOR: Meanwhile, two of the dogs of Beijing, Cyclops and Stinky, have just arrived at a camp on Catanamo Bay, on the Siamese island of Talang. Per Chairman Meow's decree, they are here for "re-education," so that they can be allowed back into the Forbidden City. The mutant dog with only one eye is named Cyclops. And the strange dog with no nose is named Stinky.
[Lights on]
[CYCLOPS and STINKY have been herded into the room, blindfolded, by GRISELDA and TIGRESS.]
STINKY: [muttering to CYCLOPS:] Where are we and how do we get out of here?
CYCLOPS: They said if we work hard in this camp and learn what they teach us, the Imperial City won't be forbidden to us anymore.
STINKY: Hmph!
GRISELDA: Quiet!
TIGRESS: [to dogs] Watch it! I almost broke a nail ..
[GRISELDA and TIGRESS push them into sitting positions and remove their blindfolds.]
CYCLOPS: [gazing wonderingly at the two cats as they preen and lick their paws:] Who're you?
BOTH CATS: [singing] We are Siamese, if you please… We are Siamese if you don't please.
STINKY: [disdainfully] You're not Siamese.
TIGRESS: This [pointing] is Griselda.
[SONG: "Stray Cat Strut" starts softly in the background]
GRISELDA: And this is Tigress.
TIGRESS: Come on, Madame is coming!
[Tigress and Griselda start their backup moves and the instructress, MADAME Puss-in-Boots, struts in to the tune of "Stray Cat Strut," and does an elegant little slinky dance, supported by GRISELDA and TIGRESS. She is quite a cat: spiky boots, red lipstick, and lots of attitude. When she is finished, she climbs on a table, stretches out on one side, and looks them over. Meanwhile, the dogs are having very different reactions to their instructress and her henchwomen. STINKY keeps rolling his eyes, while CYCLOPS gazes at them lustfully with his one remaining eye. The music fades out after the words "garbage can."]
MADAME: Well, well … new recruits? Welcome. Welcome to, err, boot camp. [She strokes one spiky boot.] After a few months of training, you'll be able to strut like us.
STINKY: [muttering to Cyclops] Who wants to strut like you?
CYCLOPS: Shh!
MADAME: By decree of the Feline Patriot Act, you must give up your canine ways and adopt cat-like behaviors. You must renounce your packs and adopt our languid and elegant style.
CYCLOPS: [under his breath] Okay! [pant pant pant.]
[STINKY smacks him down.]
MADAME: [to her henchwomen] A clumsy beast, but no matter … We will show him how to move gracefully. [turning to the dogs] My assistants didn't always move like this. Tigress here used to be a prisoner in a big house with two dogs. The dogs got to run in the park every day, but Tigress had to stay indoors and play with those stupid little squeak toys. And Griselda, Griselda used to live on the streets, eating from garbage cans, and getting chased by the likes of you. [glares]
But I took them away from all that. …
And now they work for me. …
My name is: Madame Puss-in-Boots.
STINKY: This is my worst nightmare. We have got to get out of here and quickly.
CYCLOPS: We do? [He tries a few dance steps, but then Stinky grabs him.]
STINKY: Oh, quit pussyfooting around. Help me figure out what to do!
MADAME: Silence! [wrinkling her nose] What is that smell?
GRISELDA: It's that one. [She points at STINKY.] He's a walking litter box.
TIGRESS: I fail to understand why it's so hard for these creatures to keep themselves clean. [She begins grooming herself.]
GRISELDA: Eww … the other one is drooling all over the floor!
TIGRESS: Disgusting!
[CYCLOPS quickly wipes his mouth with one paw and tries to smooth his fur.]
MADAME: Griselda! Tigress! Don't be catty. [little laugh] These are poor, ignorant, slovenly creatures, to be sure, but they can't help themselves. Their way is all they know. We will enlighten them. [cough, cough]
[MADAME coughs and chokes for a moment then spits out a hairball.]
STINKY: [whispers to CYCLOPS] And she's complaining about us?
MADAME: I beg your pardon, just a hairball. Now, here is the plan for the day. The first lesson of the afternoon will be on grooming, since you so very much need it. Then, you will learn claw sharpening and furniture scratching. Then, after a nice nap in the sun, you will learn how to torture mice and birds.
STINKY: Did you hear that? These creatures are evil!
MADAME: Silence! You had no such qualms when you were chasing and torturing us. [pauses] But let us let bygones be bygones. We don't hold grudges, do we ladies?
TIGRESS: Oh, no. [She nudges GRISELDA]
MADAME: Now, it's time for lunch, and your first lesson will be how to eat like civilized creatures without all that smacking and slobbering.
[GRISELDA and TIGRESS bring in dishes of food and place them before the dogs. STINKY makes a mad dash for the food. CYCLOPS clearly wants to but he tries to show a little restraint.]
[MADAME pokes one boot in front of the dishes, holding the dogs back.]
MADAME: Just a moment, not so fast. All this haste is unseemly. Now you may eat a little bit, but not all of it. Always leave half your food in the dish.
TIGRESS: And don't accept the same food day after day. If you ate tuna every day last week, don't touch it this week.
GRISELDA: Be capricious. Or no one will respect you.
STINKY: [to CYCLOPS:] What is this crap. I'm starving and they want me to be picky and capricious and leave half my food on my plate?
CYCLOPS: [to STINKY] Shh. Maybe we can show them how to do it doggie-style later on.
MADAME: Okay, now lick your paws and wash your face. Show them, girls.
[GRISELDA and TIGRESS demonstrate, and CYCLOPS does his best to imitate them, but STINKY balks.]
STINKY: [muttering] Eat fur and choke, you finicky, fickle felines!
CYCLOPS: [scolding] Stinky!
MADAME: [sternly to STINKY] Do it, doggie! [to TIGRESS and GRISELDA] Convince him.
[ GRISELDA and TIGRESS stuff STINKY's paw in his mouth and wipe his face.]
MADAME: Thank you, girls. Now, before we move on to the next lesson, it's time to use the litter box. It's very easy – just think "inside the box."
STINKY: I'm not using no box. What's the sidewalk for?
MADAME: This one's going to be a problem. Let's take the other one in first. [calling offstage to MARLEY] You! Come here, cat. Can you keep an eye on this one?
MARLEY: Reow! Yes, Madame.
[MARLEY comes in, a dog disguised as a cat. As soon as the cats depart with CYCLOPS, he reveals himself as a dog to STINKY.]
STINKY: Holy Moses! Who're you?
MARLEY: I be Agent Marley, [singing] I be a buffalo solider… Ahem. We a watchdog organizaaaation, unda cover to monitor dis camp, mon.
STINKY: Phew! We have got to get out of here. Can you help us?
MARLEY: Are you crazy, mon?
MADAME: [From behind the curtain] No! No! BAD dog.
STINKY: Please!
MARLEY: Okay, mon. Here, give dem some of dis.
[MARLEY hands STINKY some herbs with a hookah.]
STINKY: What's this?
MARLEY: It be catnip, mon! [He winks, slyly.]
STINKY: Catnip? What's that?
MARLEY: Mon! Like Scooby Snacks, mon, but only for cats.
[The other three cats come back out with CYCLOPS, who looks a little traumatized.]
MADAME: You see how easy that was? Scratch, scratch, scratch!
GRISELDA: Easy for whom?!!
TIGRESS: Yeah, he kept trying to lift his hind leg!
MADAME: [To STINKY] Come here, smelly one. It's your turn.
[Quickly, STINKY lights the catnip and wafts the smoke toward them.]
MADAME: Oh, my, oh my. [She grabs the hookah, takes a big puff and passes it to Griselda. Then she rolls over and waves her boots in the air.]
GRISELDA: Oh, oh. [She inhales, too, and then prances around in ecstasy, as does TIGRESS.]
[Meanwhile, STINKY tries to make a break for it, but CYCLOPS seems reluctant to leave.]
CYCLOPS: Woah, they look a bit unsteady. Let me help them to bed.
STINKY: Are you out of your doggone mind, Cyclops? Let's get out of here! Quick!
[STINKY drags CYCLOPS off while the cats cavort.]
[Lights off]
SCENE IV: The
Road
outside bejing
NARRATOR: Meanwhile, back in Beijing, Lili's father has dragged poor Lucky to the outskirts of the city.
[Lights on]
[LUCKY is being walked via leash on stage by FATHER.]
LUCKY: [LUCKY on a leash, straining against it as so many dogs do, suddenly smells something and goes for it] Smells so good, smells so good. Oh yeah that's goooood.
[FATHER tugs hard and drags LUCKY away from the locus of the smell]
[LUCKY sheepishly follows, then catches another scent and runs eagerly forward to the source]
FATHER: So eager is he for his evening walk, little does he know that I'll have to leave him at the edge of the city.
[LUCKY gets lured away from the second smell with a treat from FATHER.]
FATHER: Lucky! Here's a Scooby Snack!
LUCKY: Ooh, Scooby snacks! Mmm mmmm mmm.
FATHER: [FATHER suddenly hears marching] Quick! The imperial guards! Here, Lucky, let's hide! Now, lay down!
[FATHER and LUCKY quietly wait for a few moments]
Good. They're gone. Come on, Lucky. [Lucky used hind leg to scratch his neck] Oh, this is not a time to sit and scratch! Come on!
LUCKY: [To audience] It's a stalling tactic of mine. I know something's up. He never gives me this many treats on a walk. He's acting so weird, like he's feeling guilty about something…
FATHER: Such a good dog. Who will fetch me my morning manifesto?
LUCKY: And find your wallet, and let you know when someone is at the door – Uh-oh, uh-oh. I gotta go, gotta go! Oh, I gotta find a place to go!
[FATHER picks up dog doo.]
FATHER: [Wincing as he watches then reaches down with a bag] But no more picking up after your messes! Chairman Meow is certainly right about how filthy dogs can be!
LUCKY: He looks so put out by picking up after me. I try to go where no one will see, but I'm attached to this guy and there's no way to be discreet about it. I pick up plenty of their messes at the house. Like the time they dropped that pan full of moo-shoo chicken on the floor. I even licked the floor clean. And the time they left that pork on the counter. I went so far as to jump up and clean it off for them.
FATHER: Well, here we are, at the edge of the Imperial City. Sorry to have to tie you up old boy, but I think this will work out well. Here's a treat for you, Lucky. Such a good, good, dog. You chew and chew on this treat and soon you'll be free.
LUCKY: Peanut sauce! Smells so good.
FATHER: Goodbye, Lucky. Perhaps this is for the best.
[FATHER leaves remorsefully while LUCKY is busily chewing on the peanut butter laden twine. LUCKY notices his absence and whines for a bit, then returns to chewing on the twine.]
CYCLOPS: Do you smell what I smell, Stinky?
STINKY: You don't smell stinky to me. Why, did you just far-?
CYCLOPS: No! You. Can't you smell it?
STINKY: Me! You think I smell?
CYCLOPS: I may have one eye, but my nose works just fine. You smell to high heaven, but I'm not talking about that. Don't you smell peanut sauce?
STINKY: Now that you mention it, I do. [both their noses scan the air and then turn in one direction and hold] It's coming from over there. Let's go! [They run towards LUCKY]
LUCKY: Hey, dog! It's been a long time! Who's your posse?
CYCLOPS: This here's Inkystweezy, aiymezy ainmezy anmezy.
LUCKY: Yeah, I ain't got time for all dat. Cut me some slack cuz, and help me chew through this twine. My owners gave me up.
STINKY: The Chairman Meow decree. That freaky feline has it in for us. We just escaped from the reeducation camp.
CYCLOPS: There! You're free, Lucky.
LUCKY: Thanks, dogs. We can't let Chairman Meow get away with running us out of the city.
CYCLOPS: Why don't we go to the Rooster? The great Rooster rules over heaven, he can help us!
STINKY: Bah. Forget it. His year is over. Plus, didn't you hear, he caught the bird flu. Now he's running around like his head was chopped off.
TOWN CRIER: Chairman Meow this night issues an important warning to the people of Beijing! A storm of enormous proportions is reported to come our way. Take all cats to high ground. If there are leaks in your roof, make sure to keep your cat out of harm's way: you know how they feel about water.
The Feline Emergency Management Agency – FEMA – has assured Chairman Meow that there is no threat of flood and the levees will hold. Probably. So confident is Chairman Meow that she's on vacation at her ranch in Clawford.
This news update has been brought to you by Kung Pao Kitty Litter, ten thousand times more absorbent than other leading kitty litter brands. When you want your Wee Wee Gong, choose Kung Pao Kitty Litter!
The major headline of the day: Horrific hurricane about to hit Beijing!
LUCKY: Wait a minute, she's in Clawford? The levees will "probably" hold? We should check it out.
CYCLOPS: We're doomed! We're all going to drown!
LUCKY: Don't just sit there and look so hang-dog about this, Cyclops! We've got to help.
STINKY: What? What are a few dogs supposed to do against a few million gallons of water?
CYCLOPS: What are we going to do, Lucky?
LUCKY: We'd better check out these levees, or else our human families will perish! Let's make the long journey to the levees around Three Gorges. I'm sure we'll find others to join the cause. Save the humans!
STINKY: I don't know. I've never had a human family before. I hear it's pretty cush.
CYCLOPS: Yeah. Do you get table scraps? I dream of getting just a few table scraps.
STINKY: How did you come to belong to a human family, Lucky?
CYCLOPS: Yeah. Tell us the story while we make our way to the Three Gorges levees.
LUCKY: Well, it seems to long ago. Let me see…Ah I remember now. I was living on a farm, not far from Three Gorges, actually, when Lili's family stopped as they traveled on their way to Beijing…
[Scarves and the dogs make the flashback noise]
[FATHER, FARMER, LILI and LUCKY are on stage during the flashback.]
FATHER: I say, farmer, I see you have a three-legged dog. How did he lose his leg?
FARMER: That's a heck of a tale. A tale of a tail, if you know what I mean. A shaggy tail.
LILI: What?
FARMER: Well, young missy, one day I was out walking my lands, when all of a sudden – whoosh! – the ground gives way beneath my feet, and I'm stuck in a well. And then before you know it, it begins to rain cats and dogs, if you will!
[Audience encouraged to make rain and wind noises.]
FARMER: And the water's rising up to my nose, and I think I'm a goner, when all of a sudden, that dog, that dog right there [pointing to Lucky] comes out of nowhere, and lowers down a rope, and drags me up to safety.
LILI: Yay! [kisses Lucky]
FATHER: Impressive! And I suppose that somehow by using the rope, that poor dog broke its leg, and it had to be amputated or something like that?
FARMER: Oh no, it was nothing like that.
FATHER: [confused] Then how did the dog lose its leg?
FARMER: Well, that's a heck of a tale. You see, mister city hipster with your fancy clothes, it happened like this. One day I was out walking my lands, and I was checking out my barn, when all of a sudden – woof! – somehow I must have knocked over a lantern, and before you know it, the hay caught fire, and flames surrounded me on every side.
LILI: Oh no!
[The audience is encouraged to make fwoosh fire noises and to light lighters.]
FARMER: And the flames are getting closer and my whiskers are singed, and I think I'm a goner, when all of a sudden, that dog, that dog right there [pointing to Lucky] comes out of nowhere, and grabs me by the collar, and he leaps through a window pulling me out of the fire right before the whole barn blows up like a tinder keg!
LILI: Wow, you did that? [pets Lucky] Hurray!
FATHER: Amazing! And I suppose jumping through the window, the poor dog must have cut its leg so badly that it had to be amputated?
FARMER: Oh no, 'twas nothing like that.
FATHER: [getting a bit frustrated] Then how did the dog lose its leg?
FARMER: Well, that's a heck of a tale, a tale of heck, a heck of a tale. You see, imperialist pig-dog, here's how it went down. One day I was out walking my lands, and all of a sudden the clouds cover the sun and it's nearly pitch black. And out of nowhere, these wolves come out, and I'm completely surrounded!
LILI: My! [concerned]
[Audience members are pulled out to play the part of wolves.]
FARMER: The wolves are growling and slavering and advancing on me step by step, their hackles raised. They howl and snarl, and I thought I was a goner, when all of a sudden, that dog, that dog right there [pointing to Lucky] comes out of nowhere, and it's like he's a devil dog! He growls and barks and he starts nipping the wolves in their ears, and before I know it, the wolves are all fleeing with their tails between their legs.
LILI: What a hero! [pets and kisses Lucky and rubs his ears]
FATHER: And [not encouraged] I suppose that in the fight, the dog got its leg bit off?
FARMER: Oh no, 'twas nothing like that, no.
FATHER: [angry] You yokel of a farmer – I'm going to ask you for the last time, how did the dog lose its leg?
FARMER: Well, a dog that good, … [wait 2 beats] … you don't eat all at once.
[Flashback over, all flashback participants depart]
LUCKY: And that's how I ended up with Lili and her family – she fell in love with me and rescued me from that horrid shaggy farmer who was eating me bit by bit.
CYCLOPS: I'm sorry I asked.
STINKY: Quick, look, the hurricane is coming! We're all in trouble now!
[Lights off]
SCENE V: LILI MISSES HER DOG
NARRATOR: Meanwhile, in the present day, a hurricane has flown in on Beijing. Or maybe it's a typhoon. But whatever it is, it's getting wet in Beijing. The water is rising! Meanwhile, Lili has grown despondent without her dog, Lucky. She hatches a plot!
[Light on]
LILI: I just miss Lucky so much. I can't stand it no more – I have to go appeal to Chairman Meow and make her understand how important dogs are.
EH-DEE: Stupid girl, what makes you think Chairman Meow will listen to you?
LILI: I'll appeal to reason. I know! I'll tell her how cute dogs are! It'll work, it has to.
EH-DEE: But the storm's coming! You'll drown.
LILI: Help me, Eh-Dee. I need an idea.
EH-DEE: Here's an idea: Stay here and make me some egg rolls.
LILI: You're mean and useless. [stamps feet] I'm going to find Chairman Meow and get her to reverse her ruling. [Exits]
EH-DEE: Ok, that's good idea too. You'll drown, and that means I get to eat your food from now on! Bye!
[Lights off]
SCENE VI: LILI THE SHEEHAN
NARRATOR: Lili makes her way to Clawford, above the levees, where Chairman Meow and his court are on a golfing vacation. In the vacation palace, Chairman Meow monitors the progress of her underlings.
MEOW: How's the war on dogs going, Sabrina?
SABRINA: Great! No sign of the dogs remains in Beijing.
MEOW: Perfect! Now, how are the levees doing, Sabrina?
SABRINA: Well, not so good. We let them degrade quite a bit over the years.
MEOW: Not to worry. You're doing a heck of a job.
[GUARD enters]
GUARD: Chairman Meow, there's some little girl outside. She says she wants to see you. She's carrying some sort of protest sign.
MEOW: She sounds like an extremist. What do the signs say?
GUARD: "Bring our dogs home" And there's another one saying, "Dogs out of Catanamo Bay."
MEOW: She's in the axis of evil all right – she's probably a puppet of some dogmatic group. She's definitely a terrorist.
GUARD: She appears to be about nine years old.
MEOW: Just as I thought. Lock the doors! Meanwhile, we'll just wait here until the storms stop. Then we can go back to Beijing! Now that the dogs are gone, it'll finally be the city of our dreams! All our plans are coming true! [Laughs evilly]
[Lights off]
SCENE
VII
: THE KATRINA'
ING
OF
BEIJING
NARRATOR: Meanwhile, the unlikely band of dogs were making their way to the levees. The levees were breaking and water was flowing everwhere! [Encourage audience to wave sheets.]
[Lights on]
LUCKY: It's pretty wet. But I think I've caught a scent, we're going the right direction.
CYCLOPS: Hey dogs. Something is scurrying along, coming the opposite way. I smell a RAT!
RAT: You guys are headed in the WRONG direction! The levees ain't strong enough to hold the rising water.
LUCKY: But wait. Come with us and together we'll find a solution and save the people.
RAT: Uh, what solution? Doesn't sound like you've got a plan. Hmmm, let me think about that. Uh, no. Me and all the other rats are leaving this sinking ship. Now forget your good intentions and loyalty to humans and RUN for your lives!
CYCLOPS: Uh, guys, she's got a point.
STINKY: Here comes Ox. He's big and strong. Maybe he'll be able to help us.
OX: You escaped the re-education camps? Lucky dogs.
LUCKY: That would be me. Join us to save the people of China from this catastrophe!
OX: It's no use. The equipment and supplies have all gone to the re-education camps and the war on dogs. I'm off to find higher ground. I suggest you do the same.
CYCLOPS: He's got a point.
NARRATOR: And after Rat and Ox, each of the other animals of the Zodiac passed by our unlikely pack of heroes. Each Zodiac animal was unable to help save the humans from the impending disaster, and each one warned of impending doom.
CYCLOPS: Even with just one eye, this does not look good.
LILI: [whistles]
LUCKY: Listen! I hear something! Hey, look over there! It's a ranch, sailing down the river! Some weird cat is on the railing!
MEOW: Help me! Help! The levees have broken! The water has risen! Our ranch has cut loose and this administration is sailing out of control!
CYCLOPS: That's Chairman Meow's Clawford ranch! The whole ranch is afloat on the river!
LUCKY: [sniffing] There's someone else on that ranch boat – It's Lili! Lili, my human! Lili!
STINKY: What?
LUCKY: We need to save her! Swim for it, dogs!
[They swim over. The GUARD emerges to stop them.]
LILI: Lucky! Help me! I can't hold on much longer, I'm about to drown!
[LUCKY saves her, but is exhausted.]
LILI: Oh, Lucky! You saved my life!
GUARD: Now we've got you cornered, you vile cur! You're too weak to fight! Back to the re-education camp with you!
LILI: No! Look, the floodwater is going to drown the city. You must stop this anti-dog nonsense at once and work to restore the river and the levees!
MEOW: But how are we going to stop the river? The levees are done for!
LILI: I have an idea! If you promise to let dogs back in to the Imperial City, I know how to stop the flooding!
MEOW: You want me to release the hounds? Never!
LILI: Fine. But this ranch boat has sprung a leak, and I understand that cats don't care for water.
MEOW: [reluctantly] You have a point. Bah! All right, save us and I will repeal the anti-dog laws. Now, save us! Please, save us!
LILI: Yay!!!! Lucky, over there happens to be the Kung Pao Kitty Litter factory. If you and your other dogs can pull open the doors, the litter might absorb the water.
MEOW: What! That's crazy.
GUARD: So crazy it just might work!
STINKY: Talk about thinking outside the litter box!
LUCKY: C'mon, dogs, we've got work to do. Arooo!
[STINKY, LUCKY and CYCLOPS head off scene, where there's a lot of noise.]
MEOW: There go the dogs. [pause] And look, there's the Rat and the Ox and some other animals – they're all working together. [looking off scene towards the factory… the water recedes] By the Buddha, it's working! The water is being absorbed!
LILI: And the ranch is coming aground! The water's gone and the city is saved!
MEOW: Well done! By decree, I now command my imperial guard to release the hounds. Let the dogs be reunited with their human families and let us all work together to rebuild China! Carry out my commands, guards!
GUARD: Yes, Chairman Meow. As you command! [departs]
MEOW: Say, you smart, three-legged canine, how'd you lose that leg of yours?
LUCKY: It's a tale of a tail, you might say.
NARRATOR: And so dogs and other creatures worked together to stave off disaster. Days later, after the storm had cleared, Chairman Meow gathered all the people together to honor the efforts of these valiant and loyal friends.
MEOW: And let this be the year of the dog. Let us acknowledge and celebrate the virtues of loyalty, selflessness, dogged determination, and an insatiable appetite for affection as well as anything remotely edible.
And you, Lucky Dog, I have brought your family here to be reunited with you.
[LILI, FATHER, and the rest of the family come to embrace their dog and his new friends. The dogs then start to scratch, some lick.]
EH-DEE: Lili, I guess I was wrong about you. Your quick thinking saved the city. And I guess your dog's not so bad really.
LUCKY: [licks EH-DEE]
COOK: Hmmm, he doesn't look bad at all!
MOTHER: This dog here [pointing to STINKY] doesn't have a nose. How does he smell!
CYCLOPS: Terrible!
LILI: Let's just all dance!
[The cats and dogs dance together to the tune of Who Let the Dogs Out]
[Fade out, LIGHTS OUT, applause, applause dies down]
NARRATOR: And so to this day, the Dog is our best friend. Find a Dog person in the room, and go ahead and tell him or her all your secrets. The Dog will rule this year, and as long as we don't keep chasing our tails, we'll all be prosperous, hard-working, and loyal. The End! Or is it?
EPILOGUE:
NARRATOR: Years later…
COOK: [To LUCKY] Oh Lucky, we've fallen on such hard times. But never mind about that. Good dog. Good dog! Now, shake. Shake! Hold out paw!
LUCKY: [holds out paw]
COOK: Two legs is all you need! [takes out hatchet and begins to swing it towards the paw, then freezes in tableau]
[Dancing and singing continues]
[FINIS]