Sammy's first Mother's Day
Sammy got up at 7:30 on Sunday, and we played and read books until 9:30, when we surprised Kimi with breakfast in bed — french toast, sausages, fruit, fresh-squeezed grapefruit juice, organic apple juice, and a bottle of our wedding champagne. Truth be told, the french toast was from Trader Joe's in a box, and Kimi had made the grapefruit juice and purchased the other items. But she was still impressed. I don't cook much; gotta work on that.
Yvonne came over for brunch, and Sarah-the-hairdresser came over to do a test run of Yvonne's upcoming wedding hairdo. The results came out very well; I'd post a picture but John (Yvonne's fiance) reads this and I'm not sure if it's to be a surprise or not.
After that, Kimi had requested a very particular item for Mother's Day: A family portrait. So we made our way out to the Oakridge mall and had some poses done at the Picture People place there. Sammy was exceptionally well-behaved throughout the shoot; I have to say that the photographer did a good job of getting him to smile for the camera. Kimi was very pleased with the results. Here's a little number we like to call Surfin' Sammy: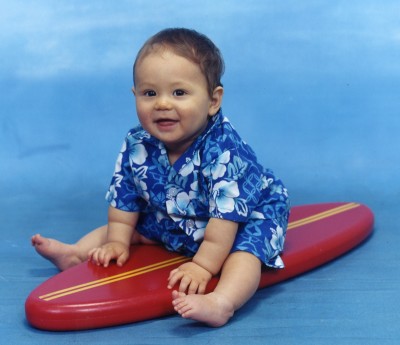 While we waited for the pictures to be ready, we ate at the food court. (Kimi's idea, not mine!) Kimi was in such a good mood that even though we were getting perilously close to Sammy's bedtime, and even though the mall was closing, Kimi kept on stalling before leaving — trying out the massage chairs, wanting to use the carnival-style picture booths ("Honey, we just had pictures taken professionally, now you want booth pictures?" "Um, ok, you're right"). She later told me that she was didn't want the moment to end. I guess that means she was happy with how mother's day turned out.
Hope your mother's day was as nice as ours.