Fish Fish Fish Dream Aquarium Fish Fish Fish Magnetic Fishing Game Fish Fish Fish
With fish being Sammy's new favorite thing, I noticed he really liked the Windows aquarium screen saver (which came with Windows XP Plus), but I felt it didn't have enough variety. After a bit of research, I bought Dream Aquairum for $20. (You can try it free, but to remove the nag messages and unlock all the fish, you gotta pay.) I think the program is really beautiful, and the fish animations are very lifelike.
Sammy loves it. He can watch it indefinitely. His refrain is, invariably, "Fish! Fish! Fish! Fish! Fish! Ooooh. Fish! Fish! Fish! Wow. Fish!"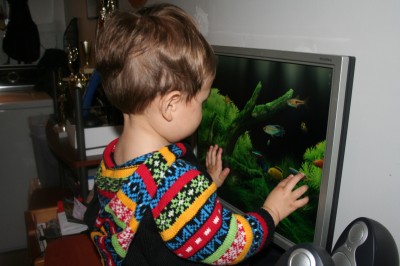 (We don't usually let him sit so close, but I couldn't think of any other way to frame the picture.)
During his visit to Tacoma around Christmas, he started playing with Kira's fishing set. This is just a magnet on a string attached to a stick, used to pick up wooden fish out of a tray. He loved it, and played with it so much that Kira got a bit upset. After we got home, sometime in January I got him a set of his own, a magnetic fishing game from Melissa and Doug toys. (The supplied magnet wasn't strong enough, so we had to glue on one of our own.) Sammy is very pleased every time he catches a fish.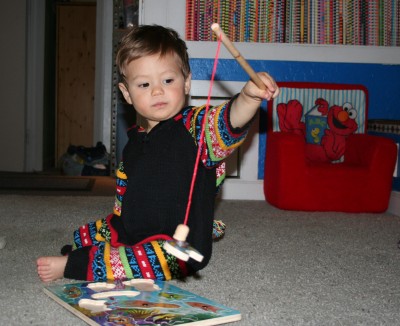 As tempted as I get sometimes, I don't want to keep a real aquarium at all. (Some of my friends, like Jason W., have some impressive ones.) I don't know anything about keeping fish (and lack motivation to learn), and I'd rather not deal with ongoing maintenance, feeding, and expenses to replace the inevitably dying fish. Less than $20 for a beautiful aquarium that never spills, can have as much stock as I want, and can be switched off at will — that's more my speed. Sammy's too. Fish! Fish! Fish!