Great gobs o' garlic
On Saturday Kimi and Sammy and Yvonne and I made our way down to the Gilroy Garlic Festival again, always one of my favorite times of the year.
A bit more traffic this year than last year, and while I love the festival I'd love to see them change things up a bit more — the same booths are always in the same location each year.
The garlic bread was just amazing this year, and I think I lost track of all the things we ate: Corn on the cob with garlic butter, garlic ice cream (you gotta eat it early so you can still the taste the garlic), Pacific Rim Garlic Chicken Stir Fry, garlic stuffed mushrooms, garlic scampi, garlic calamari in a spicy tomato broth, garlic BBQ oysters (that one was just me), garlic kettle corn (popcorn). I feel like I'm leaving some things out, too. Also some wonderful strawberry/banana/peach smoothies that — horrors! — didn't have any garlic in them.
One of my favorite moments was when I was waiting in line for the BBQ oysters and overheard two young men standing nearby: "Hmm, look at that, they have garlic gator tails. You ever eaten alligator?" "No, but I'd like to. Too bad I'm out of money." "Yeah, me too." (The item they were discussing cost $5.) "Wait, I have $3 left, how much do you have?" "Umm, exactly $2." "That's $5! Wanna split?" "Score!" They high-fived and rushed to the end of the line.
Kimi and I picked up some nice gloves of raw garlic as well as some inexpensive jars of crushed garlic. I don't cook often but I'm really craving more garlic this week, so maybe I'll whip something up.
Sammy was an amazing eater — he seemed to like everything he tried. Especially the garlic kettle corn.
Unlike last year, which was a bit overcast, it was blazing hot this year. Yvonne was telling us a co-worker of hers looks at the weather forecast each year and schedules her visit on the day that's forecast to be coolest. That's a smart idea — we'll try that next year.
Sammy fell asleep in my arms a bit before 2pm and, although normally a light sleeper, stayed asleep on the shuttle bus and all the way home.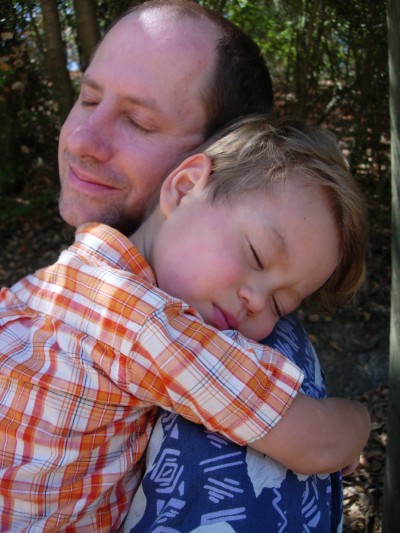 John (Yvonne's husband) was too busy with his thesis to join us this year, so we met up with him for dinner and had crepes. Yum!