Yvonne and Sophie
We took Sophie and Sammy out this morning to the Valley Fair mall for a portrait session. It was our first expedition as a family of four. We had a ten a.m. appointment, and were a bit late; it's much harder loading up and moving out with four people than three. Sammy lost patience early on in the photo shoot, but Kimi still managed to select some good shots which we had framed. I may scan them in later, although they're a bit big for our scanner. We had big plans to get some outfits and shoes for Sammy but really it took us about six hours to just get the pictures done, if you count from dressing the kids in the morning to unloading them aftewards. Sammy didn't really want to nap when we got home and put up a fuss. I have to say the trip kinda wore me out.
Fortunately we are having John and Yvonne over for dinner. Our neighbours Corey and Denetra (with their daughter Kaitlin) dropped off some delicious manicotti for us.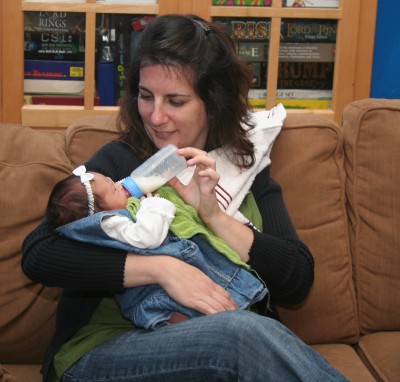 We also had John and Yvonne over yesterday, on Saturday, when Sophie was a bit more awake.