Sophie and Talia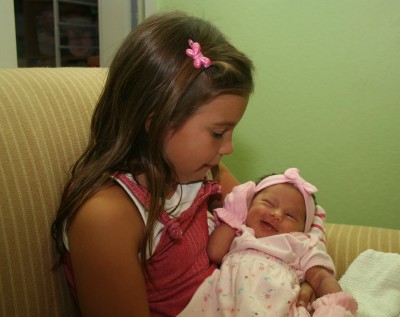 Today, Monday, October 1, begins the second week of my paternity leave, and Sophie is now eight days old. She's starting to fill out a bit. The bruising around her eye (from her quick entrance into the world) is starting to fade. She's been a great sleeper. In the photo here, Natalia (Talia) is holding her. Talia is our nanny Jen's daughter, and she and Sammy are great friends. Having a nanny has made things a lot easier on us than when Sammy was born; Jen is a lifesaver.
Sammy has been very resistant to napping and has been throwing fits at bedtime. We're trying to spend as much time with him as we did before Sophie arrived, but I know it's a very confusing transition for him to welcome someone new into the home.
Tonight we're going to have Tom, Jennifer and Miranda (Kimi's uncle's family) over for dinner, and Kimi's cooking now. She wasn't able to cook much in the last few months of her pregnancy, and I think she really missed it. It smells delicious!