Post Tacoma
So we got back from Tacoma in last night (and thanks go to John C. for dropping us off and picking us up from SJC). It was a good trip — a chance for us to spend time with our relatives there in Washington State, and for them to meet Sophie and us to meet my nephew-in-law Fallon, who was born in July.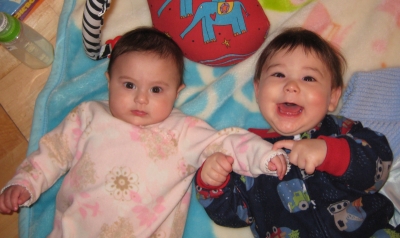 (He's the smiley one on the right.)
While we were there, we visited the Point Defiance Zoo (some pictures forthcoming if I get around to it), celebrated Kira's fifth birthday, as well as her mom Tomi's birthday, as well as my brother-in-law Rob's birthday, plus Fallon's baptism, as well as a trip to the Tacoma Children's Museum, a big group family photo session, and a lavish fondue dinner at The Melting Pot.
John and I also caught Vantage Point, which I thought was a bit repetitive (the Rashomon-style retelling doesn't hold up if you end up reshowing the same scene six times) but still a worthy distraction of a movie with some good performances and action scenes.
In answer to a dilemma I posted earlier, Sophie and Sammy were well-behaved on both airplane rides, but every one of us was sick (our hosts were just getting over bronchitis) and Sophie was having a very tough time at night (especially the first night there), so Kimi and I ended up more exhausted than we'd normally be after a trip like this. Poor Kimi's very much under the weather right now.
Still, we had a great time and it was wonderful to get out of California for a bit. Thanks go to John, Tomi, Kira and Fallon for hosting us, plus thanks to Rob for taking time off work to hang out with us. Finally, big thanks to John's parents, Foote and Louise, for some wonderful gifts and for watching Sammy and Sophie and Kira and Fallon on fondue night.