Yuri
Last Saturday, Kimi and I took a break from packing, got a babysitter and went to Yuri's Night Bay Area over at Moffett Field, with Tracee and her friend Rafique. The event was an all-day affair, 2pm to 2am, with plenty of talks and interesting exhibits in addition to the music. It was quite Burning Man-esque, except without the playa dust, blinding desert heat, dust storm white outs, camping out for a week, driving several hundred miles, and the no commerce thing.
I would have liked to explore more, but based on our babysitting arrangements and when Tracee and Rafique could join us, we only made it there at around 9pm. The main attraction for Kimi was seeing Amon Tobin perform, which was around 10:15. The immediate problem was food: There were only a few booths, what they sold was a bit weird, and the lines were extremely long. Kimi and I waited in one long line, only to arrive at the front just as they ran out of food. So we bought some overpriced organic juice. Repeat again at the next line, where all we ended up with were some bizarre chips made from weird roots, and some chocolate. That was dinner. For an event of this size, they clearly didn't plan the food situation well enough. More vendors, more choices, and adequate food supplies at each vendor would have helped a lot.
We spent a bit of time near a fire sculpture, talking with friends, and gradually made our way around to see different displays, some aeronautical, some environmental, and a few rides. We waited in line for the psycho-bike ride, which was a lot of fun: Four people pedal on bicycles, which spins around four seats in a merry-go-round. First you pedal and then you ride (or vice versa). I haven't ridden a bicycle in a while, so it was a bit of a workout.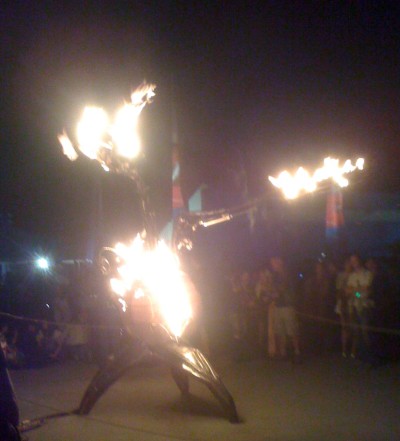 We had to relieve the babysitter at midnight, so we weren't able to stay too late, but we did enjoy the performances, and I thought the light installations were very well done. The music was so loud, though. I guess the kids today can't have it any other way, but I was very glad Kimi remembered ear plugs. I was a little put off to see one dad had dragged along his (approximately) seven year old daughter and plunked her down by the speakers. She didn't have ear plugs, and clearly wasn't enjoying herself. Same kind of parent who drags toddlers to horror movies, I guess.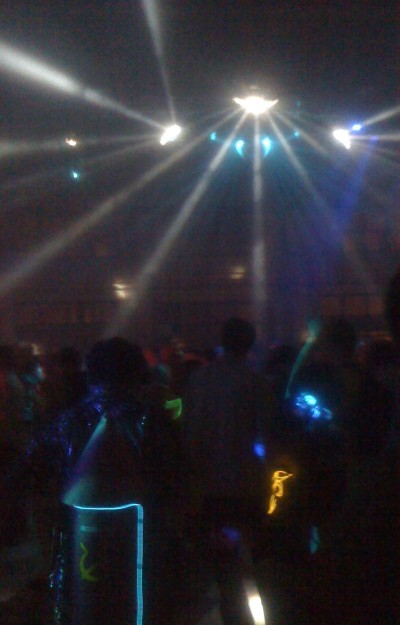 Amon was outstanding, and did make the evening worthwhile. There was a bit of cognitive dissonance in wandering past hangars and flight trainers, across a parade ground and runway, only to arrive at a rave on an airstrip. I would love to attend this event next year, prepared with having eaten at home and being able to attend more of it.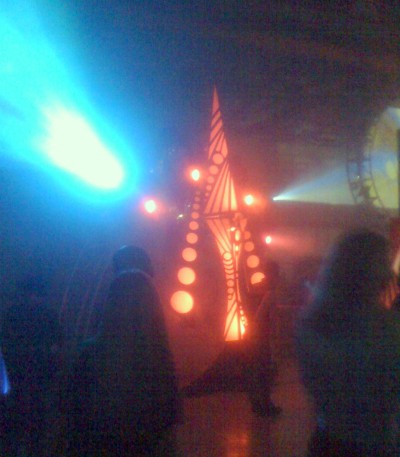 (Apologies for the bad picture quality; the only camera I had with me was the iPhone.)