"Yukon Barbie" comic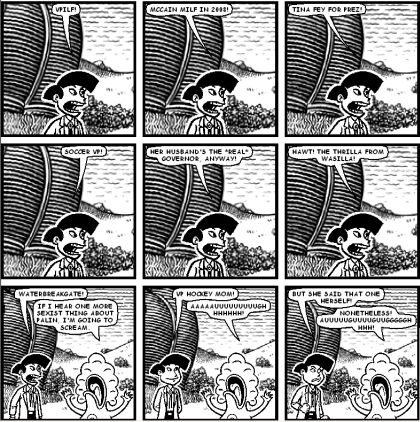 (Click to enlarge to the point where you can, you know, actually read it.)
On Friday, my reaction to McCain's announcement of Sarah Palin as VP was both surprise and respect. Previous to that, I felt like the McCain campaign really was doing very little right (off-base attack ads, ridiculous press events like this one, poor policy briefings, alienating the media).
To suddenly make an unexpected choice, and to time the announcement so perfectly right after Obama's keynote — to me, his campaign suddenly seemed to be competitive, and I felt the next ten weeks would be a lot more interesting. I did feel that the choice of so inexperienced a politician would ultimately work against McCain, but as a strategic move it was an attention-grabber, supporting McCain's image as a maverick.
If you're a Democrat like me, there's plenty not to like about Palin's positions. But the media and blog coverage of her has really sickened me. I'm tired of misogynistic, hateful and inappropriate discussions. I do not care to read about her children or her family at all, and the arguments about exposing her "hypocrisy" through these issues are baseless since the actions of her children are not her actions. Real issues only, please.
The story I'm interested in is her actual work as a corruption-buster versus charges of corruption and pork barrel politics against her. But that's buried by this nonsense about her daughter. Obama had it right: Family is off-limits.