A decade for me, and a profitable year for TiVo
Today marks a personal milestone and a corporate milestone:
I started at TiVo on March 2, 1999, precisely ten years ago. That was one office building, nine desk locations, six different bosses, over 113,000 e-mails sent, and over 15,000 meetings ago. This is by far my favorite job of my career so far, and TiVo is an enjoyable and challenging company to work for. In terms of what I've learned and the people I've met and had the chance to work with, and the products and services I've been involved in, the experience has been greatly enriching. I look forward to ten more years (at least!).
A corporate press release today announces TiVo's first profitable year. Congratulations, TiVo!
As I've described elsewhere, that first month at TiVo was insane, especially as we got closer and closer to the Blue Moon launch date.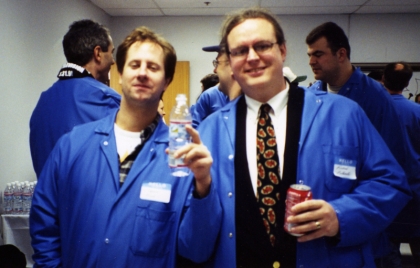 The photo here (scanned from an actual developed photograph, I'd almost forgotten about those) shows me and Richard Bullwinkle at our launch celebration, at the manufacturing plant where the first real TiVo units are about to roll off the production line. We're all wearing blue smocks so that we could go onto the factory floor to see them pass diagnostics in real-time. Standing next to me is Richard Bullwinkle, TiVo's first QE guy and webmaster and evangelist (in that order). Behind me you can make out Bob Vallone's head, to the left, and Tony Dicroce (who used to commute to TiVo from Los Angeles each week, and sleep in the parking lot; that's the kind of stuff we did back in the dot-com bubble days). I think I see Jaz's head and Ta-Wei Chien's head as well. You can see the exhaustion dripping off our faces. We lost count of the all-nighters that month. Ah, nostalgia!