The actual real genuine reason you don't have a Google Wave invite yet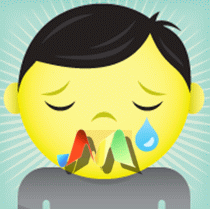 Among certain circles, the main topic of conversation for the last few days relates to invitations to try out the new Google Wave service. On eBay, invitations can be had for the low low price of $100. Enthusiasts say it'll be bigger than gmail. Some reviews call it a bit overwhelming. Detractors say it's overhyped.
Right now about 100,000 invitations have been sent out to early adopters. And in turn each of those 100,000 users have been given 8 more invitations, but those ones are not yet distributed. Speculation — and gnashing of teeth — abounds as to why those invitations haven't arrived yet.
But I have my own suspicions. Here is my understanding of why you (yes, you) haven't received your Google Wave invite yet.
You didn't respond to Google's last invite to you, Google Rave.
You're doomed to repeat today over and over until you learn how to truly love and be worthy of being loved. Only then will you receive your Wave invite.
You aren't worthy. You smell. You dress funny. You think strange thoughts.
You don't type fast enough. 130 wpm, minimum. With 99% accuracy.
Your invitation was sent to Evite by accident. Yes. No. Maybe. Tragically, no one ever reads Evite invitations anymore.
You don't read item 6 in list posts.
You are unable to describe Google Wave using actual words. In your defense, "Unfortunately, no one can be told what Google Wave is. You have to link in an 8 minute YouTube video."
Did I forget any?