The Letter V
Sorry, every other letter in the alphabet, you're fired. The letter V has completely dominated popular culture.
Vvvv vvv vv, V vvvvv, vvv vvvv vvvvvv vv'vv vvvv vv vvv vv "v."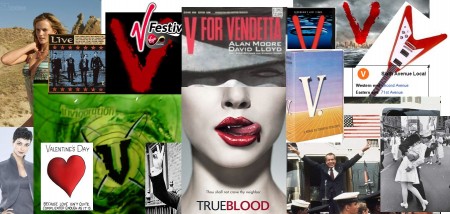 (Click to enlarge)
In the collage, roughly from left to right:
Supermodel Anne V (Sports Illustrated photo), wearing a v-neck bathing suit, from her 5-year SI run.
Actress Morena Baccarin as Anna in the new "V" series on ABC.
The energy drink V.
XKCD illustrating Valentine's Day (V Day). (Notice that the bottom half of a heart forms a V.)
The band Live's album V.
V logos for Virgin brands as well as the TV series "V" look similar.
The victory gesture with 2 fingers; Churchill (his arm, at least) and Nixon are demonstrating here. Nixon is really demonstrating three Vs.
The graphic novel V for Vendetta, written by Alan Moore, drawn by David Lloyd, which later became a movie.
In the HBO series "True Blood," adapted from the Charlaine Harris novels, vampires are known as "Vs," and their blood is a drug known as "V" (reminiscent of "X" for ecstasy).
Visitors, visitors, everywhere. In addition to the current "V" series (where the Visitors are called "Vs"), there was the original two-part 1983 miniseries, a three-part 1984 miniseries, a short-lived 1984 TV series, and various novels and comics.
Thomas Pynchon's first novel, V.
The V subway train, familiar in orange to residents of New York.
The Gibson Flying V, made famous by Lonnie Mack and Jimi Hendrix.
V Day (or V-J Day), and the world's most famous photograph of a kiss in Times Square.
And there are probably a dozen more I could have included if I had thought of them.