Little kids review iPhone apps: Doodle Buddy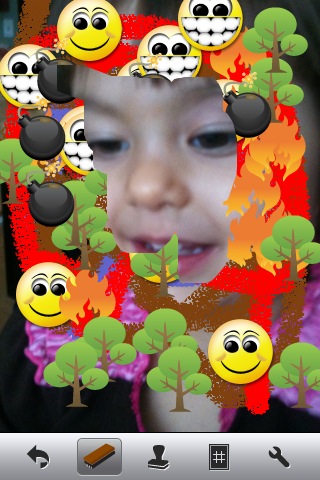 When you're taking two little kids on a plane for 2 hours, after you've read them four books, worked with the Play-Doh, let them annoy nearby passengers by standing up and playing peek-a-boo, spent a few minutes talking with the flight attendant about available drinks and the lack of lids for cups before settling on half a cup of apple juice each, watched one kid spill said half a cup of said apple juice all over themself, cleaned up said spill, read them another three books, exhausted the questions related to oxygen masks and other pictograms in the safety card, and then checked your watch to find that there's still another hour in the flight, what do you do to pass the time and keep your kids occupied?
You pull out your iPhone and start having them play around with different apps, of course. If you're exceptionally fortunate, you may even be prepared in advance by having an iPhone for each of them. (Both iPhones in Airplane mode, of course.)
There are a range of apps my kids like, including apps related to bubbles and apps related to noise making, but their favorites (that is, the most distracting) are the different sketch apps that let them draw.
Today, we'll be reviewing one free sketch app, Doodle Buddy, which as far as my kids are concerned is the best thing about daddy's phone. (That opinion will probably last another week. When it changes, I'll post another app review.)
I could talk about Doodle Buddy's ability to let two users collaborate on drawings (which I've never tried), or how it has basic sketching options (in 24 colors, with variable width, plus a smudge tool and eraser), multi-level undo, lets you take a photo or use an existing photo for a background, and has several other background choices, and — its key feature — has 24 stamps (smileys, a couple of animals, and some basic symbols) that make sounds when you put them on your drawing. I could mention it lacks basic shape drawing — no circles or lines or squares. I could talk about all that. But let's instead let my kids review this app.
Sophie (age 2): "Doodle buddy! Doodle buddy! Doodle buddy!"
I take a photo of her as the background, have her draw over it in various colors, then have her use the eraser tool to reveal her picture.
Sophie: "There's Sophie! There's my NOSE!"
With the multi-level undo, you can undo the erasing, letting her play peek-a-boo with her picture again. For a two-year-old, repetition is the soul of amusement.
Sophie: "There's Sophie!"
Me: "Sophie, do you like Doodle Buddy? Is it good?"
Sophie: "Um. Yes. Um. It's good. Doodle Buddy. Doodle Buddy!"
Me: "What's your favorite feature?"
Sophie: (quietly doodles)
My son Sammy, age 4, has a more sophisticated review.
Sammy: "Well, it's a game that you play with drawing. It has yellow. And there's blue. And more colors. So that's pretty good. It has snow and fire. And a basketball. It does NOT have dinosaurs."
He was reluctant to make more observations because he was busy drawing something that looked just as good to me as your average Jackson Pollack masterpiece.
Demerits that I could see: The shake-to-clear feature is sometimes a misfeature, and can't be switched off, and you can't undo it. As a free app it has some ads, which is fine, but if you touch them it will naturally take you out of the app. So the kids will do that from time to time, and then you'll need to close the Safari window and go back to the app. The app should be smart enough to know if it's in Airplane mode and that the ads won't work.
All in all this app is worth about 20 minutes of blissful silence per child on an airplane ride, so its worth is approximately $25. At the price of free, it's a total steal.
Doodle Buddy, by Pinger, Inc. App Store Link
Also available with a holiday theme for $0.99