Second Annual "Predict the Summer Box Office Champ" Contest
Last year, I ran a contest to predict which summer movie would perform the best. With summer fast approaching, now it's contest time again!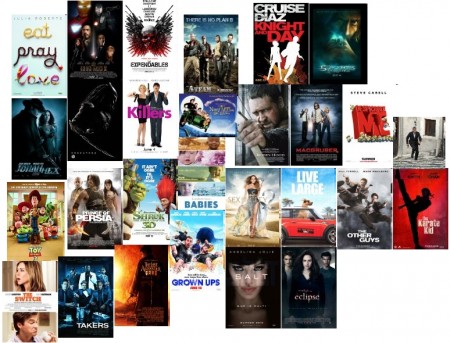 The Prize: A pair of AMC movie tickets.
How To Enter: Leave a comment here or on FriendFeed with your prediction for these four questions.
Which of the below 33 films will have the biggest U.S. box office opening weekend as determined by The Numbers?
Which of the below 33 films will have the biggest worldwide box office take as of Labor Day, as determined by The Numbers? (Note that movies released later in the summer will be at a disadvantage.)
Which of the below 33 films will have the highest Rotten Tomatoes score?
Tiebreaker: How much money will the correct answer to question 1 take in on its opening weekend in the U.S.?
Deadline to Enter: Monday, May 3, midnight Pacific.
The List of Movies
Here's the list you can pick from, ordered by date of release:
It's a much more crowded field this year than last year, packed with the predictable assortment of sequels and remakes. Some curiosities: Two SF films with Adrien Brody within a few weeks of each other? A-Team vs. Karate Kid on the same weekend? Such a crowded field means there are probably going to be a lot more money-losers this year.
Just as before, I'm leaving off a lot of films that are coming out this summer. And some of those not on the list will probably do better than some of the 33 I've listed above. But to keep things simple, let's just consider these 33.
Gory Details: I will pull all data from the appropriate web sites on Labor Day, 2010. Each entrant will score one point for each correct answer to the first three questions, with a maximum of three points possible. Highest point total wins. In the event of a tie for highest point total, I will use the answer to question 4 as a tiebreaker. Closest to correct wins.
Thanks for entering!