The BP Deepwater Horizon oil disaster: Terminology, a silver lining, and a graph
I have three things I want to say about the BP oil disaster.
First, a note on terminology. Let's not call it a "spill."
A "spill" is when my son knocks over his glass of milk. A "spill" is when you slip on some ice and graze your knee. A "spill" is what you do to the beans, as in someone accidentally letting slip the date of a surprise party.
BP's CEO Tony Hayward is happy to call this a "spill," because that word fits his position that this is only a "relatively tiny" event.
The truth is, of course, that it's already been over a month, and this is now the world's second worst oil disaster ever (probably) — and it's not over.
BP's original estimate of the flow rate was between 1,000 to 5,000 barrels per day. Current estimates suggest it was actually 95,000 barrels per day. So far, up to 491,000 tonnes of oil may have been released. In comparison, Exxon Valdez was 37,000 tonnes, and we're still seeing the effects of that 20 years later. The current disaster is already more than 13 Valdezes.
So I reject "spill." I use "disaster" and am considering "catastrophe."
Second, there is a sliver of a silver lining. That formulation is this:
Three Mile Island is to nuclear power
as
Deepwater Horizon is to offshore drilling
Now for the record, I support nuclear power. I believe today's nuclear power plants are safe and efficient. (France, the world's leader, generates more than 75% of their power via nuclear plants.) Just 300 new nuclear power plants would end our dependence on fossil fuels for powering our cities — eliminating the need for coal mining, ending mining disasters. But because Three Mile Island happened, almost no politician will ever risk their career by advocating more nuclear power plants. That one accident, which killed no one, slowed our adoption of nuclear power dramatically.
In contrast, I oppose off-shore drilling, mostly due to spills and environmental factors. Because of Deepwater Horizon and the public outcry, it's likely now that moratoriums and state-by-state bans will be enacted that last many decades. I'm glad of that, at least.
Finally, let's do a quick comparison. Oil company profits are obscene. BP earned $6.1 billion in profit for Q1, which ended 20 days before the disaster began. As of May 24, they estimated they had spent $760 million on the recovery. However, it appears that about a third of that is the lost profit of $6 million per day because Deepwater Horizon isn't operating. Separately, they also pledged $500 million for research into the environmental impact of the disaster.
So they've managed to find it in their hearts to spend a mere 17.3% of their Q1 profit on the disaster.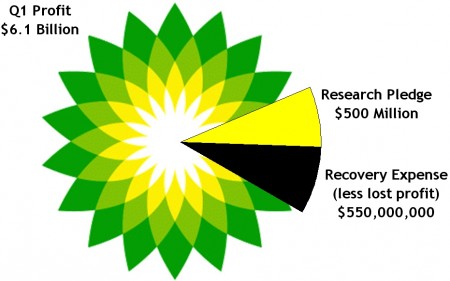 That's insulting.