"Blücher" is NOT the German word for glue (my whole world is a lie)
The 1974 Mel Brooks comedy Young Frankenstein is one of my favorite movies. Starring Gene Wilder, Marty Feldman, Peter Boyle, Teri Garr, Madeline Kahn, and Cloris Leachman (with an uncredited cameo by Gene Hackman), the spoof of the original 1931 Universal Studio's Frankenstein is both hilarious and well-made, standing up to repeated viewings.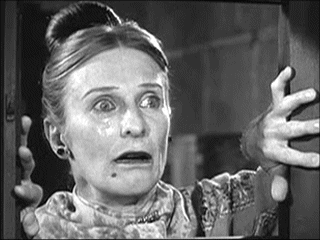 Sunday evening I happened to be discussing the film with some friends, including someone who spoke German. I mentioned how much I liked the joke about the horses whinnying off-stage whenever they heard the name of Cloris Leachman's character, Frau Blücher, being uttered, because it was German for glue.
"But the German word for glue is not 'blücher,'" my friend Mattias said.
"Oh. Well, what is the German word for glue?" I asked.
"You could say 'der Klebstoff' or 'der Leim,'" he replied.
"Well, what does 'blücher' mean?"
"It's a name, it doesn't mean anything." (Apparently it's a common name, too, like 'Jones.' EDIT: Per the comments, no, it's not common.)
Well, I had heard that the reason the horses whinny throughout Young Frankenstein is because they were afraid of being turned into glue for a long time, from at least two different people, starting at least 20 years ago.
A quick search confirmed the debunking: Snopes, About, even IMDB. Wikipedia expanded that Cloris Leachman herself had heard it from Mel Brooks. In an interview with Brooks, he claims that someone gave him the wrong translation: "Before we started shooting, someone told me 'blücher' means glue, so that's why I had the horses whinny. I'm not sure if that's true." However, in the audio commentary, Brooks simply says that the horses whinny because she's an ominous character.
There are millions of people who speak German throughout the world. It's tremendously easy to look up German words for things thanks to tools such as Google translate. But here I was a couple of nights ago, repeating an urban legend. We generally tend to believe things that we're told, even when verification is simple. The moral: Don't believe everything you hear. Verify things yourself.
For over 20 years I believed the word "blücher" meant glue. Now it means disillusionment.