Album review: "Songs The Brothers Warner Taught Me" by Megan Lynch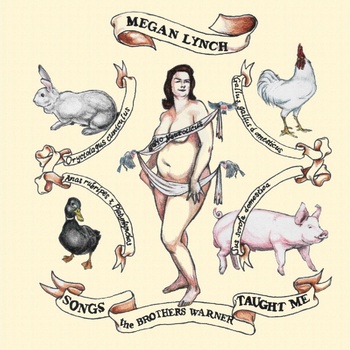 I grew up on cartoons.
Nothing was better than getting up early on Saturday, pouring several huge bowls of overly-sugared cereals, and settling in to fight with my brother over the remote.
The use of classical music and opera in cartoons was my first real exposure to those genres. But it wasn't all classical: The cartoons I grew up with (which were already decades old when I first saw them) also featured many jazz standards as well.
Megan Lynch's 2009 album, "Songs The Brothers Warner Taught Me," captures the spirit of those old Looney Tunes and Merry Melodies of yesteryear. This lively album includes classics that everyone knows, such as "Hooray for Hollywood," "You Must Have Been A Beautiful Baby," and "Shuffle Off To Buffalo," as well as other period tunes such as "Someone's Rocking My Dreamboat" (a popular song from 1941 by Leon René and Emerson Scott that has been memorably covered by Natalie Cole among others).
The highlight of the album for me is Lynch's version of "I Love To Sing" (recently seen performed by Cartman on South Park). Lynch's energy and pacing is perfect. I listen to this one frequently.
Lynch doesn't try to imitate the cartoon characters (it's not Michigan J. Frog's version of "Hello Ma Baby" — it's all Lynch), nor does she play any tricks. Backed by a studio of pros, she just lets her powerful voice carry the day. My kids have really enjoyed a lot of these as well.
Five of five stars, highly recommended. Purchase for $9.99 at CD Baby; if you purchase before August 3, 100% of the proceeds go to the artist.
I recently had the opportunity to ask Lynch a few questions about the process of creating the album.
Q. Where did you get the inspiration for the theme of the album?
A. When I could still play my own instruments, I performed solo with a repertoire that was a mix of my own compositions along with jazz standards, soundtrack tunes, Americana, etc. When I became disabled, my repertoire shifted heavily to jazz standards because the musicians I could hire to accompany me worked best with that repertoire. So the most recent thing the fans I had knew me for was that. As much as I wanted to do justice to my own compositions by recording them on something better than a janky 4-track, I figured I might have trouble connecting to my most recent audience with that.

I didn't want to be "just another chick singer doing jazz standards" to people. I also wanted a strong theme to the album, some reason why these songs were being presented together. I've always had songs in my repertoire that are obscure or have a bit of humor or both. My first exposure to jazz standards was via Warner Brothers cartoons. It occurred to me that I could work with music that my accompanists would feel comfortable with yet satisfy my need to do something out of the ordinary and still have a strong theme. Most people are familiar with the tunes but don't know the words because they're not often sung in the cartoons. When they are, only a second or two is sung. As much as possible, I was going to perform the songs as they were originally written, including their introductory verses. This choice also allowed me to bounce around genre a bit.
Q. How long did it take to record and finish?
A. I wish I'd thought to keep a journal for the project. I could have learned a lot from those notes! I don't remember precisely when I started and ended. I'm guessing I first started working with Tony Marcus on charts and music in Dec '08. I owe an enormous debt of thanks to Mike DaSilva who recorded and mixed the album and to the musicians. All made it possible for me to make the album on the shoestring budget I had. But that also meant scheduling things in between better-paying projects. So the album took about 10 months to plan, record, mix and release.
Q. What was the experience like working with the different musicians?
A. This was only my second time recording with musicians in a studio. The first time years ago was reasonably easy because we had rehearsal time as an impromptu band and only five songs with relatively simple arrangements. This was more complicated because I was working with musicians who would never get the chance to rehearse all together. I just couldn't afford to pay all the musicians for rehearsal time as well as studio time. However, I wanted to be able to work with Robert Armstrong and Tony Marcus, members of The Cheap Suit Serenaders (and other bands) who are not only very accomplished musicians but two of the nicest guys you'll ever meet. Robert lives about sixty miles from where the studio was so I wanted to do everything I could to keep him from having to trundle back and forth to Berkeley. Since Robert & Tony have played together a lot, it's easy for them to settle into a groove. So the sessions where we had them together went pretty quickly and easily. For money reasons, I was initially planning on just working with the two of them, but as we mixed the album we realized we really needed a little more bass and treble in places. We called in Brandon Essex, a talented jazz upright bassist, who was enormously impressive in his ability to come in, learn the song nearly instantly, and lay down the recording. A real pro! On other tracks we called in Steven Strauss, who has worked with Hot Club of San Francisco and other bands and is a very versatile and talented upright bassist and ukulele player. Steven graciously came in on short notice to bring a couple songs more fully to life and really made them swing.

The hard thing for me in working with others on music is that I'm always afraid that if I insist on my vision for something, if I push hard for something, I'll be seen as a bitch. So sometimes I actually soften up on stuff I want because I'm too worried about how I come off. That said, I try to observe how more experienced musicians work and communicate with each other. I try to learn the language. I performed by myself for so long that I'm a bit of a late bloomer on this stuff. You don't need to work out arrangements or telegraph things when you're accompanying yourself. You don't even need to name it — you just do it. Working with others means coming up with a common language you can communicate in.
Q. If you had the experience to do over again, what would you do differently, such as changing which songs you included or changing any of the arrangements?

A. I would keep a journal not only to note the experiences of making the album and learn from them, but also to note the equipment the musicians used and what settings they were using. Occasionally you get tech questions from folks and you have no idea what you used. If you ever want to recreate a certain sound, it would be helpful to remember what mic you used, etc.

I would get a producer. Mike DaSilva was just invaluable every step of the way in this process. The album wouldn't exist without him. He came up to me when he saw me perform and said if I was ever interested in making an album, he was looking to get into recording albums. It was another year or two before I decided I could scrape together the money to do that, but if he hadn't offered I doubt it would have happened. Mike recorded all the sessions except for some of the basic rhythm guitar tracks which Tony recorded at his studio. He did all the engineering in his studio. Then he went through take after take with me, choosing the takes we thought were best. A producer could have freed me up to just do my best as a vocalist and interpreter, freed Mike up to do his best engineering, and neither of us would have to worry about as much of the direction and logistical stuff as we did.

In retrospect, I would have scraped up the money to record more songs. I didn't realize how short they'd be so the album itself comes in shorter than I would have thought. There are many more WB songs I could have done. I think time was tight when we were recording the initial rhythm guitar parts, so 12 seemed like plenty at the time.

If I could have found a way to afford it, I would have loved to have gotten musicians together as a temporary band and gotten them recording together until things had gelled as a unit. While I'm proud of the album and think it turned out very very well, I think there's a special energy people get from playing all together at the same time that it would have been interesting to hear.