I don't often head in to San Francisco, despite it being close by. When I lived in Berkeley, my friend Mike (who now lives in Davis) was terrified of driving into the City, and felt like doing anything in S.F. took much longer to accomplish. I'm not that bad, but the City can be intimidating. That didn't stop me from hauling Sammy up there to meet with the real-life people behind the names "Thomas Hawk" and "Davis Freeberg" of the Thomas Hawk Digital Connection.
We met for lunch at Taylor's Automatic Refresher in the Ferry Building — somehow I have managed to never visit the Ferry Building previously — and talked for nearly two hours about blogging, technology, photography, and (naturally) TiVo. Thomas's article is forthcoming and will cover what we talked about.
I enjoyed meeting Thomas and Davis a great deal. They are very enthusiastic about technology and at heart I think they want TiVo to succeed as a company.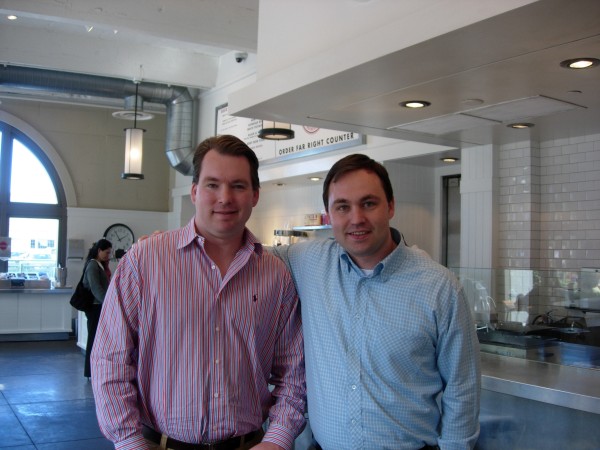 (Thomas on the left, Davis on the right.)
Afterwards Sammy and I did some shopping and I took a picture or two (with our Nikon point'n'shoot, since Tracee had borrowed our Canon Rebel XT). Even though I had already had lunch, I couldn't help but get some bread and an apple turnover from the Acme Bread Company, and sample the crab cake sandwich and clam chowder at the San Francisco Fish Company. (I only had a little bit of the crab cake; the rest I brought back for Kimi.)
Next I'll post a picture or two in the style of Thomas's site — the difference being that I'm not a good photographer, while Thomas is a pro.
Sammy is normally so well-behaved, but I think Taylor's was a little loud for him, and he wasn't as enthusiastic about talking for two hours as I was, so he got a bit fussy. Fortunately, he loved the Ferry Building itself and was happy to nap both for the ride there and back.
Update, 14-Feb-06, 9:33pm: Thomas Hawk's article detailing what we talked about is now posted at his site. Thanks Thomas!