Welcome to the Windows Keyboard Shortcut of the Day blog! (You can read more about this blog if you like.)
We'll start things off with the "Windows" key. Most computer keyboards built since 1995 have this key, usually down between the Alt and Ctrl keys, to the left of the Spacebar. On most keyboards, it looks like this: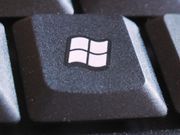 Pressing this key (by itself) opens the Start menu. Pressing it again switches off the Start menu.
Once the Start menu is open, you can use the arrow keys to select a menu item. Pressing the Enter key launches the selected menu item.
What if you don't have a Windows key on your keyboard? Just press Ctrl+Esc instead.