If you click on the icon in the upper left of an application (at the beginning of the title bar), a little menu opens, which is called the System menu: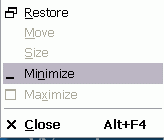 The keyboard method of opening this menu is Alt+Spacebar. Then you can press N to Minimize the application, or X to Maximize, or any of the other underlined letters.
So, to minimize any application: Press Alt+Spacebar then N.