In Microsoft Outlook, check out that "Go" menu and note the keyboard shortcuts listed. Ctrl+1 switches you to mail. Ctrl+2 switches you to Calendar.
There are a few more as well: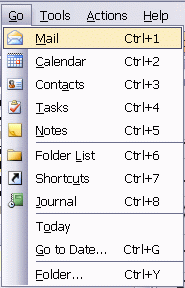 3 Responses to 'Ctrl+1, Ctrl+2: Switch between Mail and Calendar in Outlook'



Nice shortcut, works in Outlook 07.




Doesn't seem to work in Outlook 2000.




Sorry to hear it. Updated the tip to indicate that it seems to be for Outlook 2003 and later.
Leave a Reply