Just recently I received a new laptop, and found that by default, the keyboard shortcuts in menus weren't displayed.
This is the enemy of all keyboard users: An option hidden away in the Display settings that hides the underlined letters telling you what keys you can press. Boo on Microsoft for making this a default.
To enable keyboard shortcut underlining, follow these steps:
Hit Windows+D to show the desktop.
Press Shift+F10 to show the shortcut menu.
Press up arrow to get to the bottom menu item, Properties, then press Enter to select it.
Press Ctrl+Tab to change tabs three times, until the Appearance tab appears.
Press Alt+E to hit the Effects button.
Deselect the last item by pressing H.
Press Enter twice to close the dialog boxes.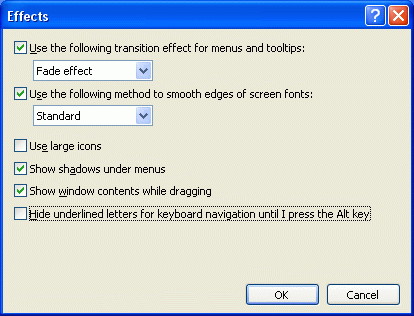 3 Responses to 'Revealing the underlined shortcut: Configuring Windows XP to be more keyboard-friendly'



Very nice tip. Thanks for sharing. In case other Vista uses see this and want to do it, it's not in the same place. Fortunately, someone blogged about hot to find it:

http://www.winhelponline.com/blog/underline-keyboard-shortcuts-and-access-keys-in-windows-vista/

Love the keyboard shortcut tips. Whether "daily" or not, it's all good. Keep up the good work!




Thanks Charlie! We'll be getting back to daily as much as possible now.




I don´t konw so much but can i do somthing like this on my win 7?
Leave a Reply