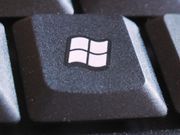 The Windows key is a special key (not available on all keyboards). It's usually down near the space bar, between the Ctrl and Alt keys.
When you press the Windows key by itself, it opens and closes the Start menu.
When you press the Windows key with certain other keys, you can accomplish different tasks:
13 Responses to 'The Windows key'



Do you know how to change the WIN + (any number) shortcuts? I can't find any literature regarding them on the internet.

Here is what I found when I experimented:
WIN+1: Nothing I can tell
+2: Nothing
+3: Runs my "Suspend.exe" program (which is located at C:\suspend.exe) - not sure why it runs this program… (I have this program set at a shortcut for my Fujitsu ECO button on my laptop)
+4: Nothing
+5: Nothing
+6: Lauches "cdplayer.exe" - but it closes right after…if you pay attention to the taskbar, you will briefly notice a cd icon show up. I only found out that it was cdplayer.exe by opening task manager and then pressing the shortcut repeatably.
+7: cdplayer.exe
+8: cdplayer.exe
+9: cdplayer.exe
+0: Starts the screensaver

Can you replicate these shortcuts? And also, do you know how to modify them? Thanks!

Dom




I can't replicate any of them. I suspect they're set up by the manufacturer of your computer via some kind of proprietary software they install on the hard drive at the factory. Sorry that I can't help any further.




@Dom

Try the program WinKey, it is customizable and very user friendly.




In Vista, the Windows key + " will execute the program that is in the shortcut bar at the bottom fo the screen




My current went off today and when I turned on my comp I only got very small icons. also, my email was in v ery small print. How do I change it to be readable ?

Cathy




Vista or XP? Assuming XP, for big icons on the Start menu, try Ctrl+Esc -> Settings -> Taskbar and Start Menu -> Start Menu -> Customize -> Large Icons (or for Classic, deselect Show Small Icons)

For your e-mail, try Ctrl+Plus a couple of times, or change the settings in Start -> Settings -> Control Panel -> Display -> Appearance and then choose a larger theme.




How to Close these Shortcuts ?
please mail me !!
ali.naghavi.it@gmail.com




CAN ANY TEL ME PLS WHAT SHORT CUT KEY FOR SHUTDOWN COMPUTER IN WINDOW 7




Shanu, I just made a new post to go over Windows 7 shutdown shortcuts, hope they help!




@Dom, @BMay, besides WinKey, there's also autohotkey.com and its scripts are @ autohotkey.net




When we use shortcut keys worked very fast.




windows keys are very special for us PC so thanks for providing useful information




I bought Plus for XP, retncely, then I installed it. I was expecting a Microsoft Plus that added great features like Plus 98. But, it was nothing like that. First, there was 4 measily little themes. And the fish screen saver, which if you want more fish, you'd have to pay for it. Well what was the $ for anyway? And the games! For heavens sake. Why put a stinkin lite edition into a $ collection of programs. And there are other programs that I might not fool with anyway. For those who are looking to buy this, please note that you at least need a 500 megahertz computer, 64MB of RAM, and a 3D video card with 16, I repeat 16MB of video memory. If Microsoft had added such things as an Antivirus to the program, more desktop themes, FULL EDITION Games, and less steep requirements, then I'd recommend this to everyone. So if your at the store, leave this on the shelf!!!PS This program is a prime example of Bloatware.
Leave a Reply